Smart Metering
Manage consumption and generate income
View the electricity consumption of each meter and manage notifications and charges to make the consumption of your income asset profitable. All in a simple and friendly software.
Better Manage
View all consumptions on a single platform, and configure the rate, collection dates and tenant changes.
Less Risks
Avoid mistakes in the calculation, application and update of rates.
More Income
The system will allow you to buy energy at a better cost, and rebill at the price you want.
More Time
Operate remotely and automatically: no more manual readings or cumbersome spreadsheets
Caso de éxito: Eurocorp
Entregando valor a sus clientes con el software de Enerlink
Eurocorp tenía un gran desafío: ¿Cómo estar a la vanguardia en las soluciones que entregan a sus clientes en términos de medición transparente y de cuidado del medio ambiente?
Conoce cómo nuestra asesoría y software le permitieron cumplir estas metas y aún más.
We advise you to provide a smart metering service designed for you
Energy contracting, joint management, project design, implementation and support.
EVALUATE
We give you specialized consulting

Evaluation: we present a project according to the characteristics of your asset and your measurement needs.

Comprehensive management: We work on your projects entire development chain: design, energy negotiation, joint management, equipment supply and operation.

Accompaniment: We maintain support over time, to ensure that your measurement system operates properly
CONNECT
Individualize any point in your electrical network

Installation: we insert smart meters at the different points to be managed.

Telemetry: we connect the entire system to the cloud to manage data remotely.


Users: Add users to pinpoint entry and exit dates, and allow them to access their consumption information directly.

Integrations: Connect the system with your processes and software through a robust API.
MANAGE
All your information in one place and in real time

Review: Visualize each asset's consumption and meter in a single platform.

Administration: Check the amount to be charged to each client and send their consumption details and collection notes automatically.

Personalization: Download all information to spreadsheets to analyze the data according to your needs.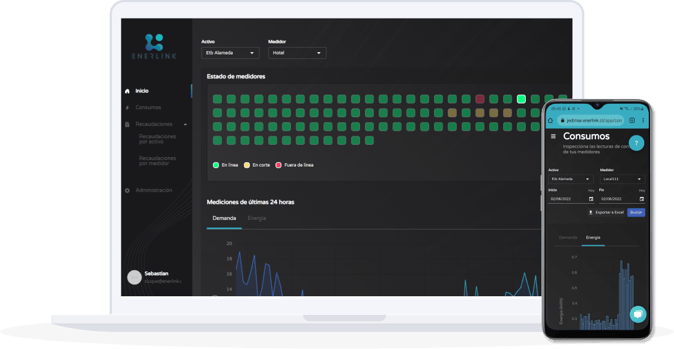 With Enerlink's assessment, we managed to reduce our bill by 20% and also supply from solar energy. With the smart meters installation we were able to correctly manage and bill each client through the Enerlink software, delivering a renewable energy seal.
Ready to implement your smart metering project?
What are smart meters?
Smart meters are mainly digital electric meters that have a key feature: they have communication ports, through which they can be accessed remotely and deliver data in real time.
What is a smart metering system?
A smart metering system is one that integrates all the necessary equipment to have the measurement data captured by smart meters. In addition to the meters, the system is made up of integrating instruments, which are responsible for capturing the data from the meters and sending it to the cloud. Finally, the system is also made up of a web platform that allows viewing and acting on the data stored in the cloud.