EVX Platform
E-mobility made simple and profitable
Optimize your electric vehicles' charging and it's costs, and ensure your fleet is available when you need it. With our software, we will simplify your transition to electromobility and help you enjoy its benefits.
SMART CHARGING AND FLEET MANAGEMENT
Benefits
Less Expense
Manage charging processes to lower cost and extend battery life.
More Uptime
Charged vehicles when you need them, and chargers available at the right time.
Measure to Act
Analyze performance to optimize your fleet, reduce your carbon footprint, and manage internal and external clients.
CONECT
Any device, anywhere

Telemetry: we connect your chargers and electric vehicles to the cloud.

Compatibility: Our software allows working with any type of assets.

Integrations: Robust API for integration with your processes and software.

Flexibility: We study your case to provide you with a service that meets your needs, and even evaluate new developments.
MANAGE
Optimize your fleet in real time

Configuration: Adjust the power and charging schedules to control its time and cost, and take care of your batteries.

Tracking: Monitor your electric vehicles in real time: position, autonomy, SoC (State of Charge) and routes.

Remote control: Check your charging points' status and remotely activate or deactivate.

Consulting: We accompany you in your assets management with our experience, so that you really get the best performance.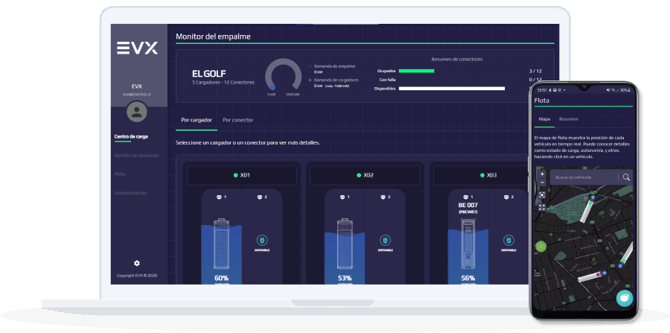 REPORT
All your information in one place

Dashboards: Access personalized dashboards and reports from our cloud platform, on any device.

KPIs: Get details of your electric consumption, kilometers traveled and carbon footprint reduction by the use of electricity.


Export: Get your data in Excel spreadsheets to communicate inside and outside your company.

Accompaniment: We help you interpret the data and find opportunities for improvement.
¿Ready to implement your e-mob project?
What requirements must my vehicles and chargers meet to be connected to the cloud?
Your equipment (electric vehicles, chargers, etc.) must comply with certain connection protocols that most assets comply with. It's like with televisions: you need a "smart TV" to connect to your platforms; likewise, you need your equipment to be "intelligent". In the case of chargers, they must have the OCPP protocol and in the case of vehicles, we install telemetry equipment to access the CAN data system.
How can you ensure that the battery life is extended?
This varies depending on the manufacturer and the use case, however, some common variables that affect the useful life of batteries (their State of Health - "SoH") are the power (or speed) of charge, the maximum charge level and driving style. With our platform, you can configure limits, cycles and other options, which will allow you to fully meet these demands.
Can I connect EVX to other software?
Of course! Our platform is designed to be easily integrated, and you just need someone who knows how to connect APIs. Likewise, you can extract the data to work on your preferred system.
Why does EVX generate so much savings?
The main reason for saving is the cost of using electricity. The way in which the electricity market is configured causes the price of energy to vary hourly, according to concepts such as energy and power consumed. If you charge your vehicle between 6 and 10 pm in Chile, you will be charged a much higher price (rush hour), so in our software you can limit or even cut off the chargers during that time automatically.

Likewise, if you consume a lot of power at the same time, it could force you to make a large and bureaucratic investment in splicing infrastructure with greater capacity. With our software, you can manage power or demand to never exceed your connected power at the panel or grid-connection level.

Other reasons for saving are related to taking care of your battery (see previous question) and increasing operating uptime, since the platform allows you to remotely diagnose and (in some cases) solve chargers bugs.